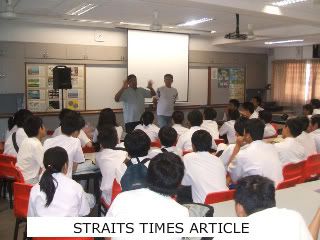 Don't be like me, ex-addict advises kids
MR RICHARD Peters, 51, has spent 20 of the past 30 years in prison as a result of a drug habit he picked up at the age of 15.
Drug-free for six years now, he has a new mission: teaching schoolchildren how not to be like him.
Over the past three years, he has given talks to children from more than 60 schools on the dangers of drug use.
The articulate son of a banker tried marijuana 'for fun' when he was still in secondary school. Later, his drug use grew from marijuana to amphetamines and methadone, and then on to heroin. He also got involved in gangs to feed his drug habit.
'My whole world revolved around heroin,' he recalled.
After his latest prison stint in 2003, he checked himself into the Helping Hand, a Christian halfway house, and resolutely refused to meet his old acquaintances.
Faith, work and the support of other residents in the home helped deepen his resolve to stay drug-free.
At the home, Mr Peters, a bachelor, began to notice how the children of many of the residents were struggling with their own problems with drugs and gangs.
At the same time, many schools would also organise visits to the Helping Hand to see its work. Gradually, Mr Peters, who by now was employed by the home as a manager for fund-raising, began using these visits to talk to the children about the need to stay clean.
As word spread, schools began inviting him to speak during morning assemblies and even to teenagers at risk of turning to alcohol, drugs or gangs.
Speaking to a group of 10 Secondary One boys from a neighbourhood school one recent Saturday morning, Mr Peters began by asking how many had tried whisky.
A dark-skinned, scrawny child, who was 13 but looked half his age, tentatively raised his hand. Another four followed. The same question on cigarettes, and the whole group, barring three, owned up. Glue, pressed Mr Peters, referring to inhalant sniffing which had been on the rise among teens of late.
This time, the boys hesitated. 'Not yet,' ventured one, smiling tentatively.
Soon, an overhead projector began flashing photographs of addicts in various stages of cold turkey, some throwing up, others emaciated, with vacant eyes, sprawled on the floor, some disabled, having lost body parts to gang fights or drug abuse.
'Most of them are in prison; some are dead,' deadpanned Mr Peters. The giggles stopped, the chatty boys fell silent, serious stares fixed on the screen.
Did they want to end up like the people in the photos? 'When we were young, no one spoke to us about how a single puff of a drug can ruin our lives,' he intoned.
'Good things are not easy. Bad things are - but you end up wasting your life.'
When a boy asked how to get out of a gang, the answer was emphatic. 'Seek help from your counsellors or your teachers. Or call us. We're there, the police and the CNB, we are all there to help you.'
Later, a 'guest speaker' for the day, former gang member and recovering drug addict Tan Boon Khon, 51, took centrestage.
Like Mr Peters, Mr Tan, who now works as a taxi driver, had spent years in prison trying to kick the drug habit.
'How do you think I feel when my son's friends say your papa is a gangster?' he asked as his cherub-cheeked son Stallone, nine, sat quietly at the back of the room.
'I want to erase my past, but I can't,' he said, adding that he wore long-sleeved shirts while driving a taxi, so that no one could see his tattoos - the 'signs of his past'.
'You boys have a choice.'
This article was first published in The Sunday Times.